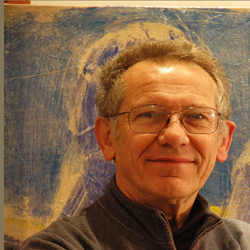 Australian painter
(b. 1945, France: arr. Aust. 1985)

Marc Rambeau studied art at the Villa Thiole (French School for Visual Arts) and at the National School for Arts Decoratifs in Nice from 1961 to 1963. In 1964, he joined the Robert Boell Atelier in Toulon where he continued his studies. From 1968 onwards, Rambeau's work took him to the South Pacific where he lived in New Caledonia and Tahiti until 1985, when he took up residence in Australia. In 1989 he became an Australian citizen. As a travelling artist in 1995 and 1996, he resided in Beijing for six months. This stay in China marked a new era for Marc Rambeau's art, for he discovered the rice-paper medium, which he has since used extensively for his paintings. The influence of Rambeau's time in China is seen in the deceptive simplicity of his bold calligraphic drawings and his use of ink on rice paper. East meets West in his color compositions, collages and image repetitions. He used these techniques in the themes he developed in Tahiti in 1997, portraying Polynesian dancing and the vibrancy of the Tiurai festival; and then again in 2000 in his Around the Buoys project, which captured the colour and movement of the Americas Cup regatta. In Australia too, his work on the landscape of the Outback is known for its bold simplicity and strong colors.
Sourced from McCulloch's Encyclopedia of Australian Art. Used with permission. Copyright: McCulloch and McCulloch.