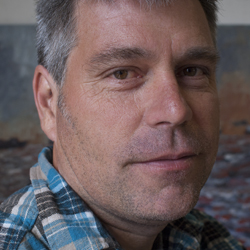 Australian painter, printmaker
(b. 1964, Melbourne, Vic)

Julian Twigg's recent work has been dominated by the view from his window looking down Port Phillip Bay, watching the cargo ships regularly making their way along shipping lanes to the busy ports in Geelong and up to the mouth of the Yarra River. The evolution of Julian Twigg's painting has been led by his recent work with printmaking. Resolving his images in print has found its way into his paintings. Australian Galleries' Caroline Field interviewing Julian Twigg said: 'The compositions have become less linear and formal and the palette more harmonious, allowing the nuggety ships to integrate with the sea and sky, their forms reflecting the mood of the natural environs'. From the Lone Voyage catalogue. Julian Twigg won the ANL Maritime Art Prize in 2007.